ADJUSTABLE FORK MOUNTED HOOK
Haven't found exactly what you want?
Visit our Main product page or
contact us
directly for further details.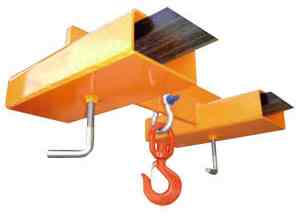 Adjustable Fork Mounted Hook
The Adjustable Fork Mounted Hook provides a quick and economical method of the lifting and positioning of unpalletised loads.  Multiple lifting positions can be achieved by the correct positioning of the attachment along the fork blade.
These Adjustable Fork Mounted Hooks have been designed to be used in industrial settings like factories, warehouses, and wherever heavy un-palletised loads need to be lifted. Thanks to their adjustable properties, these hooks can be used to achieve multiple lifting positions by simply positioning the attachment in the most convenient place. The hooks are sold as a full unit that includes a bow shackle and a swivel hook, and the product has been painted in bright orange to ensure visibility.
All prices are ex-works and exclude VAT.  In Stock with a lead time of only 2-3 working days.














Latest Tweets