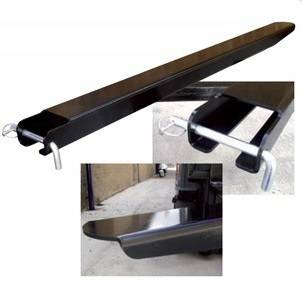 Forks V Fork Extensions
Forklift Forks must support at least two thirds of the load's length. So, if an operator handles 6 ft. square crates, the minimum legal fork length would be 4 ft.  Fork extensions can be utilized to quickly lengthen the Forks but depending on a company's load demands, longer forks offer a safer alternative.  Our range of Forklift Forks can be found here.
Fork Extensions provide a simple, but effective method of handling the occasional long and awkward load that extends past the tips of the parent fork arm (maximum overhang 50%).
The best application for Fork Extensions is to deal with the occasional large but light load.  They should not be used for the purpose of reaching loads into the back or side of a truck to pick up product with the fork tips.  Fork extensions should also not be "homemade" and must have a retainer on the forks in the way of a heel hook or chains.  Fork Extensions do not create a significant deduction to truck capacity.  When used properly, they also do not automatically extend load center past the truck's ratings.  (Load center is the dimensional center of the actual load handled.)  Increased load center increases the load's leverage to tip the lift truck over.  A manufacturer data plate with multiple load center ratings can help an operator make safer stability decisions.
If a Forklift regularly handles larger loads that are nearer to the truck's rated capacity, using longer Forks is the best practice.  Installed only when needed, longer forks eliminate the need for an updated data (capacity) plate which is required with Fork Extensions.
Standards and laws aside, using longer Forks instead of Fork Extensions will always offer a more stable and structurally sound foundation for all forms of load handling.  This makes longer Forks a better choice when considering safety and tip-over risk factors.
If Fork Extensions are needed in your operation, the full range can be found here.
Do you have the proper Forks for loads? Contact Liftruck UK today to request information about a longer set of Forks or Fork Extensions.