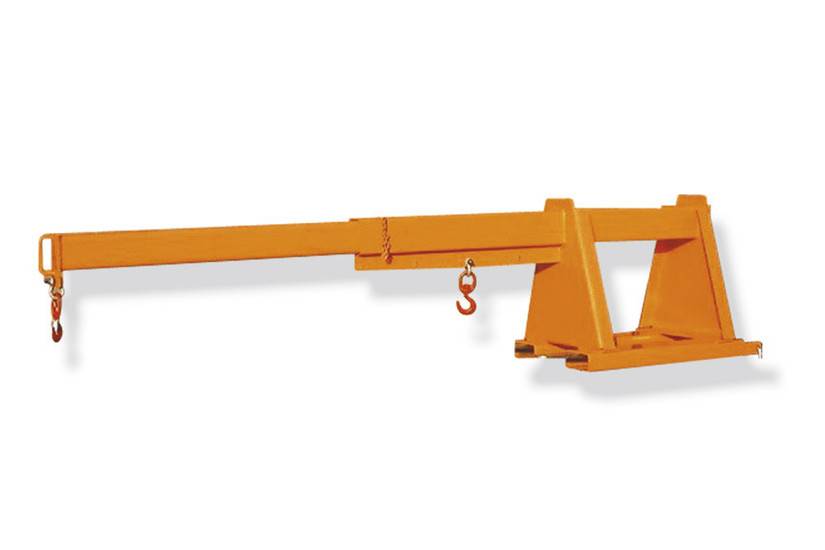 Forklift Jib and Hook Attachments are an excellent way of getting more versatility and so greater value out of your forklift, which in itself can be a high cost investment that any business would rightly want to get as much return from as possible.
Generally speaking (expensive hydraulic clamping attachments aside) goods are usually either lifted from above or from below.  So when there are restrictions on lifting one way it is worth considering the other.  Most companies with a forklift have the lifting from below covered via their Forklift Forks; but tend not to have a solution in place for when either space or other restrictions prevent them from lifting from below or for when it is preferential for goods to be lifted from above.
In these instances both Forklift Jib Attachments and Forklift Hook Attachments are a cost effective solution, with Forklift Jibs going a step further by giving extra reach to either take out or place goods into an area that it would not be possible or practical for the forklift itself to move into.
Our British Manufactured, CE Marked Forklift Hook Attachments and Forklift Jib Attachments can be seen via the link below:
https://www.liftruck.co.uk/shop/jibs-and-attachments/forklift-jibs.html
As with lifting, any goods there are important considerations when lifting from above via a Forklift Hook or Forklift Jib Attachment.  For example the use of slings, chains and shackles connecting the goods to the jib or hook attachment.  These have to be correctly selected and applied, for the given application, other considerations relate to reductions in lifting capacity especially if using a jib where the load centre is further away from the forklift's mast.  Another consideration is the fact that goods connecting to a hook or jib can swing, especially is the load itself is a "live load" moving around in its container (such as liquids).
As always with any Material Handling Equipment, including forklift attachments, we always recommend that all organisations have their own Health & Safety Risk assessment carried out prior to the equipment's use.