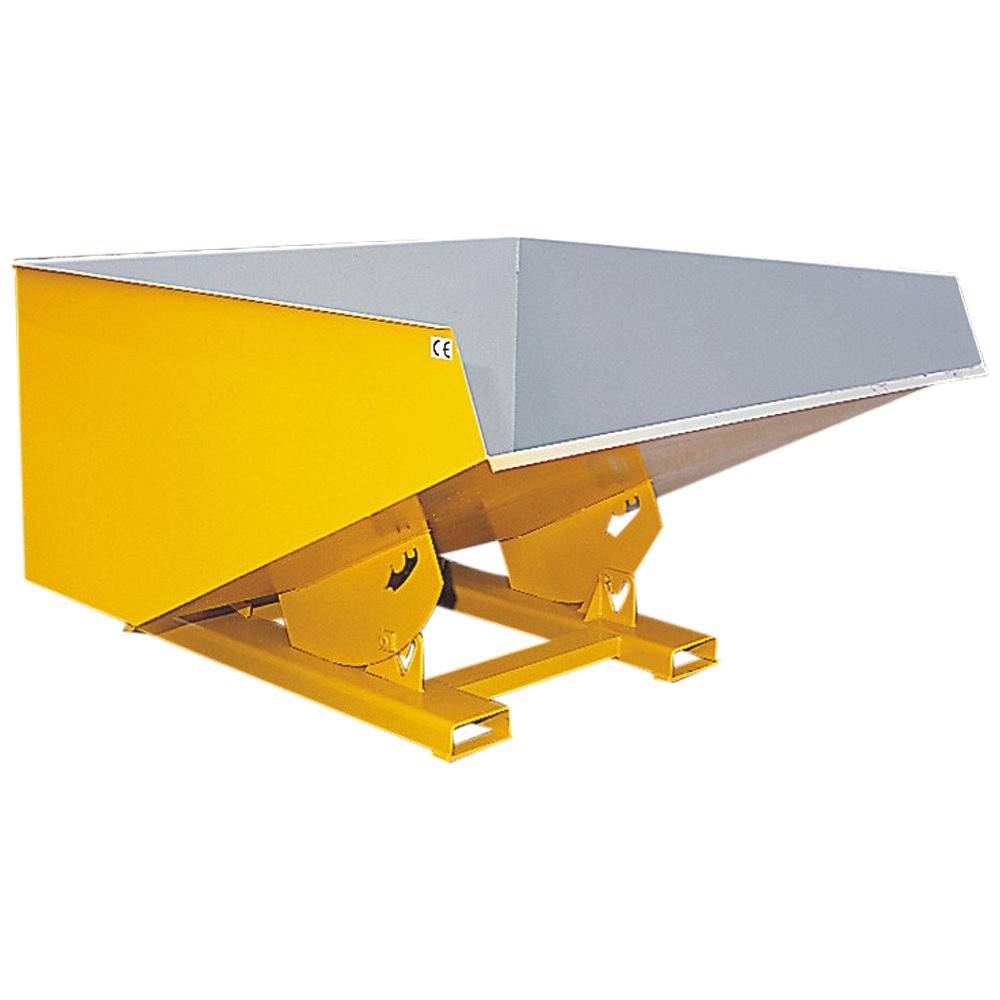 We have recently reduced prices across the range of our Forklift Skip Attachments and here I wanted to tell you a bit more about certain Forklift Skips which are ideal for placing in production or storage areas, to help keep working areas clear whilst allowing safe and speedy removal of scrap or rubbish.  Our entire range of Forklift Skip Attachments can be found by clicking HERE .
Let's start by talking about our best selling 'Forklift Tipping /Combi Skips'…
THEY REDUCE ACCIDENTS FOR A START!
Most skips carried by Forklifts require a forward tipping action to unload, but the height and design of these skips often sees operators standing on mud guards or climbing the side of the yard skip to reach the release mechanism.  The use of roll-on roll-off skips, up to 36.5 metres in length and 2.5 metres high, means operators are routinely working at height in unsafe conditions, increasing the risk of falls.
The unique mechanism 'unlocks' the tipping action when the base is lowered to the edge of the receiving skip, with a secondary locking mechanism to prevent accidental discharge.  A combination of gravity and truck movement returns the attachment to its original position.  This now also an optional extra for some of our other Skips, so give us a call if you want to add this feature.
We have a great working relationship with a UK manufacturer who stock these Skips for us (as well as other Forklift Attachments like Jibs, Carpet Poles, Access Platforms etc).  The new Forklift Tipping/Combi Skip is now available from stock.
Now the newly released 'Auto-Lok Tipping Skip'.
Our manufacturer mentioned above has recently revealed a new Fork Mounted Tipping Skip in an effort to reduce the risk of accidents on site while improving productivity, with the introduction of the Auto-Lok Tipping Skip!
Fully automatic engagement allows operators to stay in the comfort and safety of their cab for the whole duration of the Tipping Skip's use.  Just driving into the fork pockets and picking up the skip will see it ready to tip, while the automatic locking mechanism ensures the attachment stays in place during operation.
The high-quality water tight body and reinforced loading edge means the skip is suitable for the safe and simple tipping of all types of materials.  The chassis provides four-way entry pockets to allow the skip to be positioned from all four sides, and two easily replaceable tensions springs means maintenance costs are kept to a minimum.
If you need any help with regards to sourcing a suitable Forklift Skip Attachment for your operation, don't hesitate to give us a call!