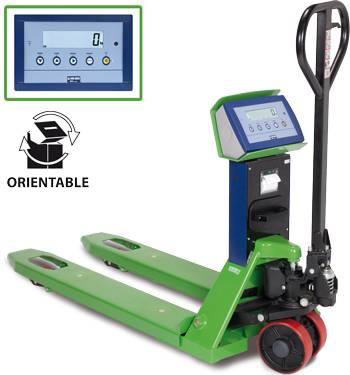 GET THE BEST OUT OF PALLET TRUCK SCALES
Pallet Truck Scales, also known as Pallet Jack Scales or Pump Truck Scales.  Not every Pallet Truck Scale is the same – a choice of weighing accuracy, optional printers and more are available to ensure your Pallet Truck Scale meets to your needs.
But how should you use a Pallet Truck Scale to ensure accurate, heavy duty weighing?  Simply follow this quick-fire guide.
Step 1: Ensure that the Pallet Truck Scale is positioned on a flat, stable surface! – Flooring can cause small variations in weight – which is why we never recommend weighing on uneven surfaces.  If the surface isn't flat, the reading could be inaccurate.
Step 2: Choose the application mode – Use the scale's functions to switch between basic weighing, accumulation, counting and more.  (If available on the model you have purchased.)
Step 3: Use Zero and Tare effectively – If the goods you are weighing is on a pallet – you can remove its weight so that only the weight of the goods shows.  You can also use the Zero key to reset the scale to naught, if it is showing another figure when no weight has been applied.
Step 4: Carefully add the object onto the forks – Take care when adding the item to the scale, so to ensure the item is not in an unsafe position where it can fall when the forklift scale is moved.
Step 5: Accuracy assured – The built-in scale will show the weight accurately on the bright indicator display.  On certain Pallet Truck Scales this weight information can be printed and stored.
Step 6: Adding more than one item – If you are adding more than one item to the Pallet Truck Scale, take extra care when adding these items.  Wait for the weight to stabilise on the display before adding the next.
Step 7: Transport the item to where you need it – The key benefit of choosing Pallet Truck Scales over platform scales is that you can take the scale to your goods, rather than your goods to the scale.  This can save time, as this video shows.  With a handle and wheel fitted, the loaded Pallet Truck Scale can be used to manoeuvre pallets to the loading areas for dispatch.
Our complete range of Pallet Truck Scales can be seen right HERE.
See below a list of some of our best-selling models!
SCALE HAND PALLET TRUCK – WH-25ES – https://www.liftruck.co.uk/shop/pallet-trucks-weigh-scales/scale-hand-pallet-truck.html
MILD STEEL PALLET TRUCK SCALE – LTTA-2000 – https://www.liftruck.co.uk/shop/pallet-trucks-weigh-scales/mild-steel-pallet-truck-scale.html
POWERED DRIVE WEIGH SCALE PALLET TRUCK – SCALE PX AGILE PLUS – https://www.liftruck.co.uk/shop/pallet-trucks-weigh-scales/semi-electric-weigh-scale-pallet-truck-667.html
For more information about any of our scales call us on 0800 458 8025.