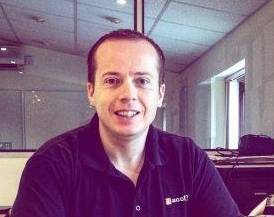 Bryan Mattock
Web Sales Manager
At Liftruck Since : 2010
Role: As well as Sales and advising customers of the best product fit for their Manual Handling needs, I look after the Day to Day running of Liftruck UK, so from the moment my working day begins I can be involved in a myriad of different of activities to keep things running as smoothly as possible, as well as working on various activities and projects to help develop the Manual Handling side of the business.
Favourite Food: I make fairly decent Chicken in White Wine sauce
Favourite Film: Torn between GoodFellas: directed by Scorcese and Starring Bobby De Niro what more could you want, and Full Metal Jacket: the adlibbed lines by the Drill Sergeant are particularly good.
Favourite Pastime: Spending time with my three boys keeps me busy, and I train in Brazilian Jiu-Jitsu: it's a good workout whilst learning something new at the same time.  Plus it gave me the opportunity to meet UFC Hall of Famer Royce Gracie.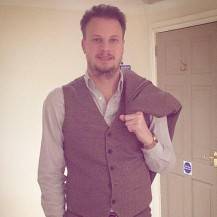 Lewis Trigg
Web Sales Executive
At Liftruck Since: 2007
Role: Web Sales dealing with online and over the phone orders. If it's not an order, it will be helping the customer work out the best manual handling solution for their operation. A Social Media guru who looks after our Twitter (@LiftruckUK) account, keeping our followers, customers & fans up-to-date with the latest news, offers and every now & then some light hearted fun, so, be sure to Follow/Like us to keep up-to-date and don't be afraid to say "Hey!".
If I'm not at my desk, I'm probably in the warehouse helping our despatch team ensuring end locations are organised, products are labelled up and placed onto the couriers system ready for delivery the very next day (Placed before 1PM of course).
Favourite Food: I do really enjoy a curry, Chicken Tikka Massala.
Favourite Film: Either Pulp Fiction or Shawshank Redemption.. I can't decide between the 2!
Favourite Pastime: Football (Chelsea through & through).  Real Ale Drinker and CAMRA member – I enjoy going to local beer festivals.  I also enjoy socialising with friends and going out for meals and days out with the wife.

KEIAN DUNNILL
Data Analyst
At Liftruck Since: 2017
Role: I Analyse sales statistics and provide insight on data trends.
Favourite Food: Mexican (Burritos), Italian (Calzone).
Favourite Film: Titanic.
Favourite Pastime: Photography, Tourism.

Ellis Fuller
Sales Admin Supervisor
At Liftruck Since: 2009
Role: Keeping the all the paperwork in place that organises and keeps the various business operations working together; as well as taking care of our transport for Short and Long-term Forklift Rentals and sales.
Favourite Food: Chicken. Anything with Chicken in: she really like Chicken.
Favourite Film: Corrina, Corrina
Favourite Pastime: Socialising (Ellis – a big music fan is becoming a Glastonbury regular).

Katie Blake
Sales Admin
At Liftruck Since: 2015
Role: Like Ellis, Katie helps keep all the vital paperwork in place, in particular for Forklift and Stair Climber Sales, Rental and Training. Also a bit of a wiz at Excel, Katie spends much time collating and organising data.
Favourite Food: Chocolate
Favourite Film: Willy Wonka & the chocolate factory, starring Gene Wilder.
Favourite Pastime: Walks over the park with my puppy

Sam Woods
Business Development Director
At Liftruck Since: 2011
Role: Business Development Director
Favourite Food: Chilli
Favourite Film: Braveheart
Favourite Pastime: Learning to enjoy recently becoming a Dad & supporting an average football team, Charlton Athletic FC!














Latest Tweets