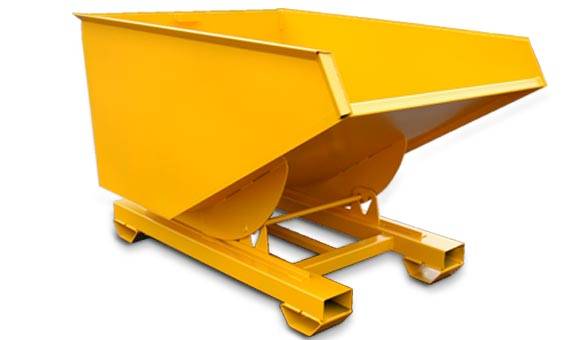 Forklift Tipping Skips – Hugely Popular
Two key priorities for most companies are keeping employees safe and ensuring work areas are kept clean and tidy, which is why our range of Forklift Tipping Skips continue to be hugely popular.
Having an efficient system for the quick and safe removal of scrap from production or storage areas is where our Forklift Skips and Tipping Bins prove ideal for firms who need help in this aspect of their daily business.
For working in potentially volatile or explosive environments, the ability to manufacture our Tipping Skips out of spark resistant stainless steel is a vital requirement when it comes to complying with ATEX requirements, not to mention peace of mind for staff who are operating working in such hazardous areas.
Manufactured from both regular duty 3mm thick steel and heavy duty 5mm thick steel, all of our Forklift Tipping Skips are manufactured right here in the UK and are ideal for the collection and disposal of general factory rubbish, whilst offering strong, durable and long service life properties.
Available in a variety of colours to help waste segregation, all Forklift Skips in our range are fully tested and certified for compliance with latest health and safety regulations.
To learn more about our Forklift Tipping Skips and Tipping Bins, please explore our website or give us a call on 0800 458 8025 and chat to one of our friendly team, who would be more than happy to assist and advise.