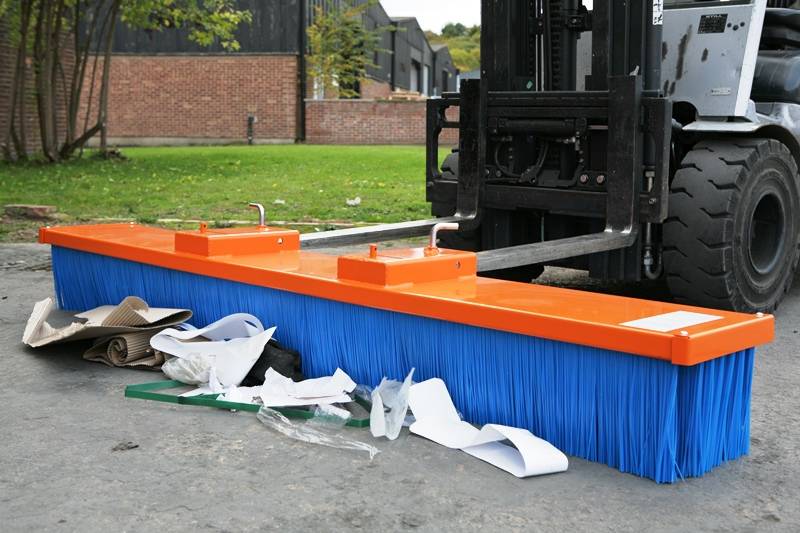 Now that winter is behind us, today is the ideal time to take a look around and see what parts of your premises, factory or yard needs some TLC.  With a wide range of Forklift Attachments to suit all possible requirements, here are just some of our attachments that can help with the clean up:
Forklift Access Platforms – Ideal for getting up high (safely) and inspecting the guttering and other building structure after the recent winter storms.  Our Forklift Safety Cages are the perfect solution to carry out un-scheduled and emergency repair work, without the need to hire in specialist lifting equipment.  When you're finished, the Forklift Safety Cage can be put away and brought out again whenever some unforeseen and unplanned maintenance task needs to be performed.  Our best-selling Access Platform is our CFAP and you can view the item HERE.
Tipping Skips – Collecting rubbish and debris is one thing, but having some way to contain it and dispose of it is something else.  Our Forklift Tipping Skips prove the ideal solution when it comes to waste collection and disposal.  Keeping your yard and working areas clear of debris is easy when a Forklift Tipping Skip is in situ.  Once the Forklift Skip is full, simply forklift the bin to your nearest waste receptacle and tip, job done.  Our best-selling Tipping Skip is our Combi Skip and you can view the item HERE.
Forklift Sweepers – With the recent winter storms leaving your yard in a bit of a mess, our low cost push broom Forklift Sweepers can make light work of sweeping up.  Simply secured to the Forks of your forklift, our push broom Forklift Sweepers act in the same way as a conventional brush, with the only exception being, it is your forklift that is providing the labour and not your staff (they will thank you for it!)  Our best-selling option is the LTIFMS Range and can be viewed HERE.
These are just some of the Forklift Attachments that we can supply to you.  There are lots of Attachments to see on our website so please feel free to browse, and if there is anything in particular that we can help with, don't hesitate to call us on 0800 458 8025 or drop us a line info@liftruck.co.uk !