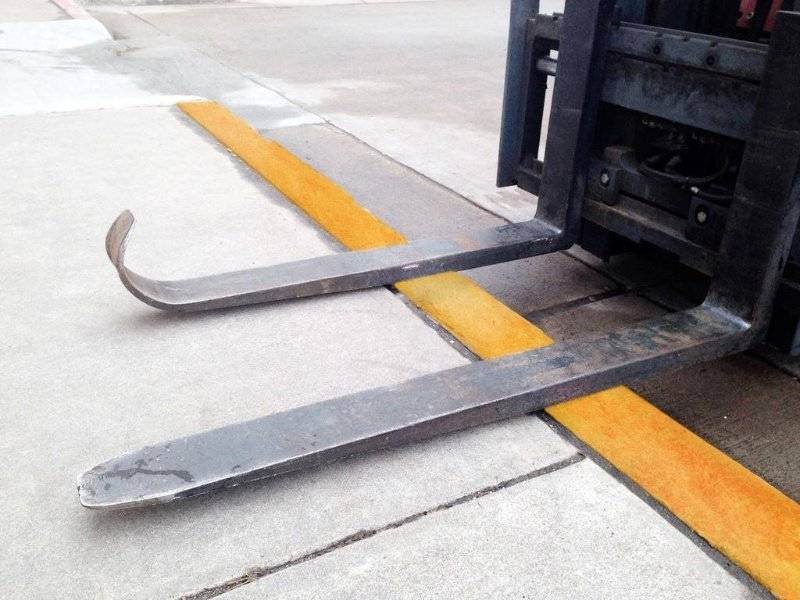 WHEN DID YOU LAST CHECK YOUR FORKLIFT FORKS?
One year ago, three years ago, longer? Forklift Forks must be checked regularly for wear, deflection and cracking; damage such as this can lead to dropped loads, damaged goods and, even worse, FATALITIES!
If Forklift Forks are found to be defective, they must be changed immediately! Simply attempting a repair to the Forks will damage the Forks' integrity and cannot guarantee the same safe lifting of loads.
Unsure how to check your Forks correctly for wear and damage?  We can help. Call us on 0800 458 8025 for some advice.
Forklift Forks should always be bought as pairs – they are hang tested to ensure they are in-line.  Purchasing a single fork is a HUGE RISK and cannot ensure safe lifting.  Our Forks are manufactured right here in the UK using high-quality materials, which have been developed as a result of many years of experience.
NEED NEW FORKS?
Get the right Forks right now by choosing the size you require right HERE or follow this link: https://www.liftruck.co.uk/shop/forklift-forks/forklift-forks.html
Still unsure on the size you need, give us a call and we will help, 0800 458 8025.