CONVENTIONAL MOVING...

USING A LECTRO TRUCK TO MOVE....

More manpower needed and each man will lift considerable weight.


Increased Workers Compensation claims. Constant risk of serious employee injuries.


Hard-to-handle loads increase chances of product and property damage.


Higher insurance rates.


Single strap can break causing risk of injury and/or damage.

One or two men with a Lectro Truck can replace two or three men.


Reduced Workers Compensation claims.


Better control and easier maneuverability virtually
eliminates product and property damage. Operator
is always safely above the load.


Lower Insurance costs.


Double-strapping system makes securing and moving
the load safer.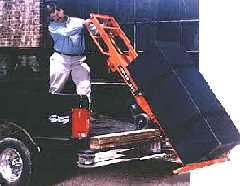 The tripod attachment can turn the Lectro Truck into a warehouse truck in a few moments. No tools are needed to attach the tripod to the Lectro Truck. Once the tripod is attached you now have four wheels instead of two to move your product around the warehouse.
| | | |
| --- | --- | --- |
| | | |
Click here to contact

for more details
| Home | Range | Applications | Accessories | Operation | Testimonials | FAQs | Videos | Contact |

---
Castle Forklifts Ltd, Unit 15 Paynes Lane Industrial Estate, Rugby, Warwickshire, CV21 2UH, UK Tel 44 (0)1788 560531 Fax 44 (0)1788 540943
All trademarks and logos are acknowledged as the property of their owners. All stair climbing hand trucks and dolly dimensions and sizes are approximate. VAT and delivery must be added to all prices unless shown as included.
Copyright www.stair-climbers.co.uk 2001- 2007