LECTRO TRUCK is a complete system for
stair climbing, lifting and moving heavy items.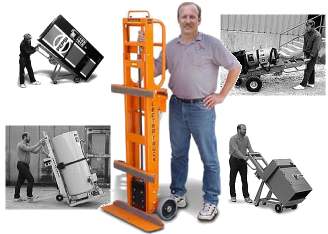 "The first job we used Lectro Truck, we had fourteen 1000
pound tanks to bring to the job site, up 14 stairs, and
over 1000 feet throughout a power plant and to the final locations.
We are extremely pleased. Lectro Truck paid for itself in that one job. Fire Systems Inc
Lectro Truck Menu
| Home | Range | Applications | Accessories | Operation | Testimonials | FAQs | Video | Contact |

CLICK HERE TO SEE OUR NATIONWIDE STOCK OF USED POWERED STAIRCLIMBERS

Stair Climber Main Menu
Home | Manual Climbers | Lectrotruck powered range | Steprider powered range | Used stair walkers| Contact

---
Castle Forklifts (a member of Acclaim Handling Ltd), Unit 15 Paynes Lane Industrial Estate, Rugby, Warwickshire, CV21 2UH, UK Tel 44 (0)1788 560531 Fax 44 (0)1788 540943
All trademarks and logos are acknowledged as the property of their owners. All stair climbing hand trucks and dolly dimensions and sizes are approximate. VAT and delivery must be added to all prices unless shown as included.
Copyright www.stair-climbers.co.uk 2001- 2013